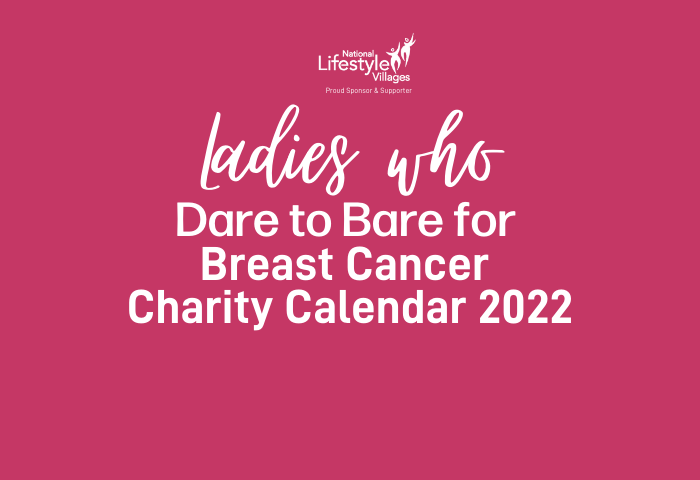 Tuart Lakes Lifestyle Village Homeowners Get Naked for a Good Cause
Calendars are now SOLD OUT!
On behalf of the Tuart Lakes Calendar Girls, THANK YOU for all your support. The calendars are now SOLD OUT and a total of $33k has been raised thanks to everyone's contribution. The total funds will be donated to Breast Cancer Network Australia on Friday 18th February 2022.
Homeowners from Tuart Lakes Lifestyle Village have stripped for a 2022 charity calendar to raise money for breast cancer research and to inspire all women to check their breasts. With their modesty protected by props, the otherwise nude photos capture the women relaxing or undertaking everyday activities in the vibrant Tuart Lakes community, from going to watch a film, playing lawn bowls or cards, swimming, reading or enjoying an afternoon tea.
Homeowner Bev Hall rallied more than 18 fellow homeowners to take part in the calendar initiative. "There was a massive amount of planning involved in setting up the shots, and the ages of the models range from 60 to 80. The enthusiasm for the initiative was fuelled by the fact that we have all been affected by breast cancer, either personally or through a relative or friend."
Breast cancer is the most common cancer affecting Australian women. In 2021, it is estimated that 19,866 women will be diagnosed, as will 164 men.* It means that approximately 20,030 Australians will be diagnosed with breast cancer in 2021, an average of 55 people every day. Although breast cancer can occur in younger women, the majority of breast cancers occur after menopause. About 3 out of 4 of breast cancer cases occur in women 50 years and over.
"We hope this calendar will bring women's breast health into the spotlight, reminding women of all ages to check their breasts and have a breast screening. With so many women in the over-50s age group affected by breast cancer we hope that we offer a timely reminder that saves lives, and at the same time, raises important funds for research," says Bev.
Interest in the calendar has been far-reaching across Australia with the ladies appearing on 9 News and The Morning Show. You can view the story below.