MENU
Free up your capital
It makes financial sense
The graph below show the projected number of people reaching 65 in WA by 2027.
This means that with more and more people looking for retirement options, it makes sense to start looking for lifestyle options early. For many Western Australians, releasing money tied up in the family home is key in living a wonderful life and in 2017, buying an National Lifestyle Villages Home and Lifestyle Package presents a better equity release than ever before.
Enquire Now
Average Price
Over the last 15 years, resale values of NLV homes have tracked closely to normal real estate and NLV home owners have realised good returns on their investment.
With the growing Baby Boomer population, Lifestyle Villages are gaining popularity and we anticipate that over the next 20 years our Villages will continue to become an increasingly sought after option.
Though some of our communities are sold out, it is possible to buy an established home and lifestyle package, and just like normal real estate, the usual laws of supply and demand apply.
Cost Comparison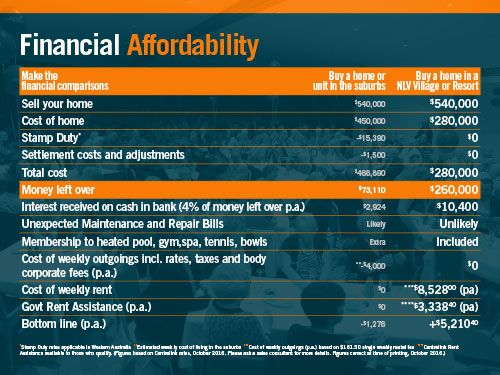 *Stamp Duty rates applicable in Western Australia.
**Estimated weekly cost of living in the suburbs.
***Cost of weekly outgoings (p.a.) based on $161.50 single weekly rental fee.
****Centrelink Rent Assistance available to those who qualify.
Figures based on Centrelink rates, October 2016. Please ask a sales consultant for more details. Figures correct at time of printing, October 2016.
What our lifestylers say
"Tuart Lakes has given us more than we anticipated"
Dave and Lynette
Tuart Lakes Lifestyle Village
Watch Video
More Testimonials
"

Financially, we are miles in front...Moving here was the best thing we ever did

"

Vic and Elaine at Vibe Baldivis
"

My goal is to make it to the World Athletics Championship in Toronto in 2020 when I am 86 years old

"

Jim D
Jim D
I grew up during War Times in East London. It's hard for kids nowadays to comprehend but in those days because of the World War we had very little food, we had few toys, we had no bikes, but we had a ball which we kicked around in the street. This was my first introduction to sport.
So I guess I was playing Soccer almost from when I was old enough to run around. My Sporting Life really started when I was 13 and playing for Oldfield United FC. As much as I loved Soccer I was a little overweight as a kid and wasn't the speediest on the pitch. So it was decided that I would be good in Goal. I played well enough to make the 1st team for Oldfield, during which time a scout from my local Club, Millwall FC, watched me and saw enough to invite me to trial with Millwall.
I made the Reserves Team and debuted against the mighty Arsenal in a midweek London competition. During the game it was 0-0 up until injury time when a late goal was scored against us by un unmarked opponent. Being the unpaid Junior I copped the full blame by all my older teammates and subsequently I got a barrelling from the Manager. Upon hearing this after the game, my Mum stormed up to this Manager and collared him giving him both barrels right between the eyes. On the way home she informed me I would never play for Millwall again. Thanks Mum.
Let's talk!
Contact us now or alternatively:
Make an enquiry
Get a call-back
Arrange an inspection
Get a free info pack
Footer
Get a free info pack