MENU
Free up your capital
It makes financial sense
The graph below show the projected number of people reaching 65 in WA by 2027.
This means that with more and more people looking for retirement options, it makes sense to start looking for lifestyle options early. For many Western Australians, releasing money tied up in the family home is key in living a wonderful life and in 2017, buying an National Lifestyle Villages Home and Lifestyle Package presents a better equity release than ever before.
Enquire Now
Average Price
Over the last 15 years, resale values of NLV homes have tracked closely to normal real estate and NLV home owners have realised good returns on their investment.
With the growing Baby Boomer population, Lifestyle Villages are gaining popularity and we anticipate that over the next 20 years our Villages will continue to become an increasingly sought after option.
Though some of our communities are sold out, it is possible to buy an established home and lifestyle package, and just like normal real estate, the usual laws of supply and demand apply.
Cost Comparison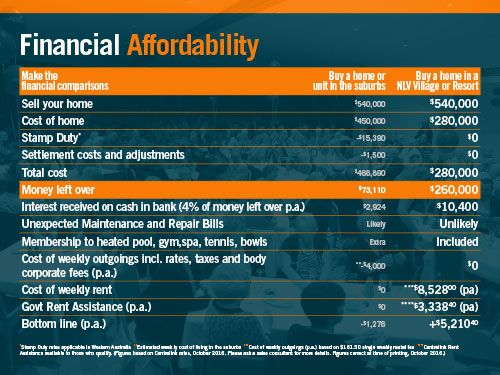 *Stamp Duty rates applicable in Western Australia.
**Estimated weekly cost of living in the suburbs.
***Cost of weekly outgoings (p.a.) based on $161.50 single weekly rental fee.
****Centrelink Rent Assistance available to those who qualify.
Figures based on Centrelink rates, October 2016. Please ask a sales consultant for more details. Figures correct at time of printing, October 2016.
What our lifestylers say
"Tuart Lakes has given us more than we anticipated"
Dave and Lynette
Tuart Lakes Lifestyle Village
Watch Video
More Testimonials
"

Reminiscing about the 1961 Swan Districts Football Club Premiership

"

Syd K
Syd K
Reminiscing about the 1961 Swan Districts Football Club Premiership
Swan Districts Football Club had never won a Premiership in the WAFL League Competition. We languished at the bottom end, you could have called us cellar dwellers. However in 1957 the WAFL introduced an extra competitive team into the structure. So now all clubs had a League, Reserves and Thirds team, the last being in the 18-20 years bracket. This enabled the clubs to have access to nurture and improve the football ability of up-and-coming players. Swans were the Thirds competition inaugural Premiers in 1957 and again in 1958 which gave the club a little hope for the future.
In 1960, Haydn Bunton, a South Australian, was elected League Coach. From the outset it was obvious that there would be a massive shake up. The placid Black Swan club emblem was ditched, and replaced by the fierce, black fighting one. Training began in the hot summer months at weekends as well as mid-week. Weekends were up and down sand hills at Scarborough through to Trigg and mid-week around the Swan River, swimming across it, and of course, on the oval. Blood, sweat and plenty of tears!
Anne Parker
Busselton Lifestyler, Anne has lived all over the country in a range of similar village communities. But according to Anne, nothing compares to the coastal charm of Busselton.
Perfect home
Anne selected a 1-bedroom, 1-bathroom Sussex home and comments that it is so beautifully designed. "From the front it looks like a quaint little 1900s worker's cottage, but once you get inside, it's so vast and well laid-out."
Plenty of storage
"The storage is brilliant. There's a laundry with an ironing board facility and broom cupboard, a wall-to-wall robe in my bedroom and plenty of cupboards in my galley kitchen."
Friendly environment
"The sales ladies often show prospective buyers through my home and I am very proud of that."
"I have lived all over the country, in various (non-NLV) village communities of different sizes, and Busselton Lifestyle Village is just the right size."
"The management team is lovely, you can talk to them and they treat you like family."
Great location
"We have a brilliant position right next to a park, there is a bike and walking track nearby and I love the access to Busselton town and the beach, which are just 2kms away."
Let's talk!
Contact us now or alternatively:
Make an enquiry
Get a call-back
Arrange an inspection
Get a free info pack
Footer
Get a free info pack