MENU
Free up your capital
It makes financial sense
The graph below show the projected number of people reaching 65 in WA by 2027.
This means that with more and more people looking for retirement options, it makes sense to start looking for lifestyle options early. For many Western Australians, releasing money tied up in the family home is key in living a wonderful life and in 2017, buying an National Lifestyle Villages Home and Lifestyle Package presents a better equity release than ever before.
Enquire Now
Average Price
Over the last 15 years, resale values of NLV homes have tracked closely to normal real estate and NLV home owners have realised good returns on their investment.
With the growing Baby Boomer population, Lifestyle Villages are gaining popularity and we anticipate that over the next 20 years our Villages will continue to become an increasingly sought after option.
Though some of our communities are sold out, it is possible to buy an established home and lifestyle package, and just like normal real estate, the usual laws of supply and demand apply.
Cost Comparison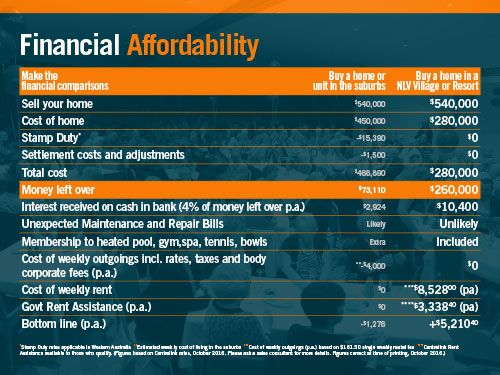 *Stamp Duty rates applicable in Western Australia.
**Estimated weekly cost of living in the suburbs.
***Cost of weekly outgoings (p.a.) based on $161.50 single weekly rental fee.
****Centrelink Rent Assistance available to those who qualify.
Figures based on Centrelink rates, October 2016. Please ask a sales consultant for more details. Figures correct at time of printing, October 2016.
What our lifestylers say
"Tuart Lakes has given us more than we anticipated"
Dave and Lynette
Tuart Lakes Lifestyle Village
Watch Video
More Testimonials
"

Ray and May have more time on their hands

"

Ray and May
Ray and May
Ray and May were looking forward to a leisurely pace of life once they stopped working, but it didn't quite work out that way. Between spending time with their new grandkids and looking after the maintenance of their big family home, they were busier than ever.
Their decision to downsize and upgrade into a brand new home at NLV solved the problem. Their lifestyle home was so much easier to look after, they now have more aquality time to spend with their grandchildren, as well as time for bowls, tennis, swimming, golf or socialising with their new friends… without having to drive anywhere!
"

So one day at the tender age of 70, I decided I would give it a go

"

Arthur L
Arthur L
The Avon Descent is conducted each year during the first weekend in August and it is quite a challenge.
As a member of the over 45 Kayak Association, I had been paddling a kayak up and down the Swan River for a considerable number of years. The Avon Descent was always at the back of my mind, like the Marathon is to a long-distance runner I guess.
So one day at the tender age of 70, I decided I would give it a go.
This decision caused considerable consternation and horror amidst the four generations of my family but they gradually accepted the idea and formed themselves into a very effective support team.
The start line at Northam is a very colourful scene with hundreds of kayaks and paddlers circling around in the still water, waiting to take off and disappear down the weir.
The first day had many exciting moments but my enthusiasm was being maintained by my descendants who were leap­frogging my progress and shouting encouragement from the riverbank.
Let's talk!
Contact us now or alternatively:
Make an enquiry
Get a call-back
Arrange an inspection
Get a free info pack
Footer
Get a free info pack